Why Study Here?

We are the largest single University in London and one of the largest Universities in the UK with over 37,000 students and with buildings spread throughout the centre of London.

We have many specialist facilities to support our courses, including: the most modern Science ...
more
Study Mode:
At the institution
BA Advertising & Marketing Communication and Public Relations London is one of the world's most important centres for advertising, communications and PR so this course offers a fantastic opportunity to get into this industry by studying the subject in the centre of London. The course aims...
Study Mode:
At the institution
BSc Social Anthropology This degree aims to enable students with the ability to locate pivotal points of anthropological and comparative change within the contemporary social world. It will enable students to develop the academic, technical, computing and practical anthropological skills...
Study Mode:
At the institution
MA by Project (Furniture) The focus of an MA by Project is a self-originated substantial body of independent work. The research project may be practice-based, or developed as a thesis. The project may involve the development of design(s), artwork(s), craftwork(s), artifact(s), article(s),...
Why Study Here?

We are the largest single University in London and one of the largest Universities in the UK with over 37,000 students and with buildings spread throughout the centre of London.

We have many specialist facilities to support our courses, including: the most modern Science Centre in the world; our famous Graduate Centre designed by Daniel Libeskind; sound and recording studios; a mock courtroom; a lighting laboratory complete with artificial sky and heliodon for our Architecture students; the internationally renowned Women's Library; seven floors of IT facilities in our Technology Tower

Our 400+ degree courses are both vocational and intellectually stimulating - many employers and professionals help to design our courses, provide paid placement opportunities and guest lecturers
We have ten internationally acclaimed Research Institutes including the new Global Policy Institute, opened recently by EU Trade Commissioner Peter Mandelson

Our supportive environment includes mentors for freshers, student peer support and personal academic guidance, as well as excellent learning facilities. Our staff are friendly and approachable, helping you to get the best out of your studies.

Strong links with the city of London. Our top corporate sponsors include ABN AMRO Management Services, Bank of England, Financial Services Authority, GlaxoSmithKline, HBOS Treasury Services, KPMG, London Stock Exchange, PricewaterhouseCoopers, Royal Bank of Scotland and Royal Mail.

A great range of social and cultural activities on campus including the award-winning Rocket club and bar, club nights, top DJs, cultural events and a wide range of student societies.

You can study any of nine different languages, whatever course you're on - and on most courses, it's possible to spend a semester or a year abroad in places as diverse as France, Cuba, USA, Cyprus, Spain, Argentina or Sweden.

More international students than almost any other UK University including over 190 different nationalities, making for a truly cosmopolitan environment

We are London's number one sporting University and win national and international championships in tennis, hockey and basketball, with many other sports developing at national competitive levels. Facilities include superb gyms and an Olympic standard basketball court.

Our architecture students have won the RIBA top prizes every year since 2003 and many of our film and animation students have won prizes. At last year's Awards Ceremonies, over 30 students won top prizes.
Our alumni include: Zoe Ball, Neil Tennant, Vic Reeves, Jamie Theakston, Zandra Rhodes, Charlie Wheelan, Lord Karan Billimoria, Sir Denis Weatherstone, Carole Jalime, Alison Moyet and Viscount Linley



Institution London Metropolitan University London Greater London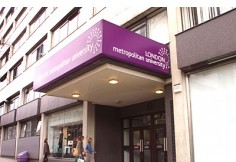 Photo Institution London Metropolitan University London
London Metropolitan University United Kingdom Photo
Photo London Metropolitan University United Kingdom